Seals and Shelters
Traditional raised panel design and beauty in the look of wood with the strength and durability of steel. Regal Series adds classic design and striking eye appeal to any home.
STANDARD HEIGHTS – 6′ 6″, 7′ 0″, 7′ 6″, 8′ 0″
SUMMARY OF FEATURES: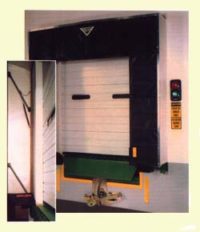 Heavy-duty frame is double kiln-dried pressure treated lumber. Front frame is reinforced with 1/4″ thick steel plate.
Frames covered with white 18oz. coated vinyl to transmit natural light into the loading area
Raked header permits weather drainage (flat header is used when shelter is protected by a hood or canopy)
Foam weather strip provides a seal on the top front edge of the shelter frame, under aluminum trim angle
Face curtains are sewn with multi-stranded, bonded V207 Dacron Polyester thread with a lock stitch. Seams will not "run" with wear.
Scotchply fiberglass stays add stiffness to shelter face curtains. Four (4) stays in 900 series head curtains; five (5) stays in 1000 series head curtain.
Wind straps on head curtain keep the head curtain from being blown out of position when shelter is not in use
Four overlapping wear pleats per side absorb the impact from sharp trailer corners. (900 Series has 3 per side)
Full length closed cell neoprene forms a wiper seal on the trailer's sides
Wear panels with guide stripes provide drivers with a visual reference to the dock
Full width double-layer strip forms a wiper seal across the top of trailers
Tapered draft pads (8″ to 1″) located behind the side curtains help prevent air flow from lower corners of the shelter. Permanent "NO STEP" labels are included for safety.
Heavy-duty steel I-Beam Protectors protect each side frame
---
Kelley Impactor and Protector Bumpers
SUMMARY OF FEATURES: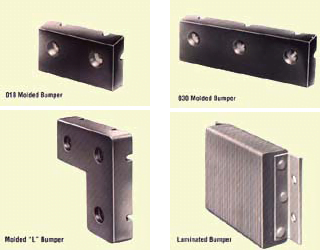 Provides maximum cushioning protection against vehicle damage to docks, and cargo.
Constructed to last and provide years of protection.
Eliminates costly repairs from severe shock to dock.
Low maintenance.
Several model selections available.
Kelley Dual Arm Dock Lights
SUMMARY OF FEATURES: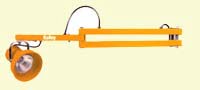 Four models
Twin strut construction
Long life: Fixtures are degreased and phosphate dipped initially, then painted with high-visibility-yellow urethane powder coating for extended life
Easy plug-in installation; plug included
1 1/2″ square, heavy-gauge steel arm resists damage from impact
Bulb guards available
UL listed; accepts either PAR 38 or R 40 bulbs to 300 watts
360 degrees adjustability; light can be pointed in any direction
Model DSS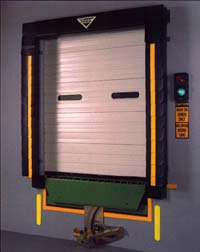 Stationary Head Pad Dock Seal
Ideal for smaller doors, provides a positive seal between internal and external environments.
Model DSS-WM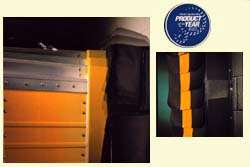 Make your dock seal last twice as long with the WearMaster
The WearMaster features an innovative two-piece movable head pad and wear pleat system that actually moves vertically with the trailer, reducing wear on your head pad and sides pads, increasing the life of your dock seal.
Model DSH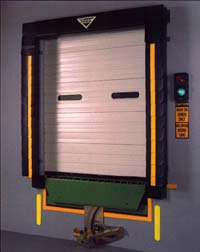 Hood Curtain Dock Seal
A hood-style head curtain seals the rear of the trailer, accommodating a variety of trailer heights.
Model DSA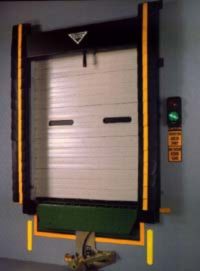 Adjustable Head Pad Dock Seal
Offering excellent sealing on a full range of trailer heights, the DSA model features a manually adjustable head pad that allows you to position the head pad on a 48-inch vertical track.
Model VS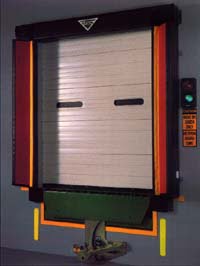 Stationary Head Pad Dock Seal with V-Shape Side Pads
Experience great sealing effectiveness – – even if your trailer is docked off-center. The V-Seal is the ideal dock seal for better trailer access. The head pad seals along the top edge of the trailer, while the side pads seal the hinge air gap and provide for better access to the back of the trailer.
Model VSH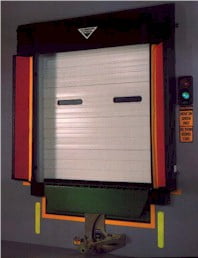 Head Curtain Dock Seal with V-Shape Side Pads
This V-Seal model offers a tight side wall seal, with the added benefit of a hood-style head curtain for application with taller doorways.
Model DSSL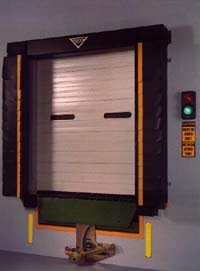 L-Shape Dock Seal with Stationary Head Pad
Whether your trailer is 8 feet or 8 feet 6 inches wide, the DSSL provides total access to the trailer width, when docked at doors up to 9 feet high.
Model DSHL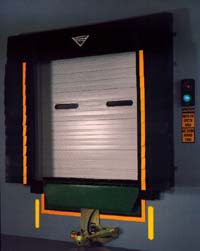 L-Shape Dock Seal with Head Curtain
Whether your trailer is 8 feet or 8 feet 6 inches wide, the DSHL provides total access to the trailer width, when docked at doors up to 9 feet high.