Preventing Accidents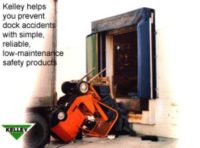 Dock accidents can injure or kill workers and can have serious consequences for a company. Yet, in almost every case, they can be prevented with proper safeguards that protect against common accidents at loading docks:
Lift trucks driving off the dock because a truck leaves before loading or unloading is completed
Lift trucks accidentally damaging doors, overhead tracks and headers while working at the dock
Collapse of trailer landing gear because the trailer creeps away from the dock as lift trucks continually move in and out during loading or unloading
Lift trucks inadvertently driving off the edge of the dock, even when no truck is being loaded
Just one mistake, one accident, can be tragic in human terms and costly in economic terms. Consider the ramifications of an accident.
Injured Worker
Worker Compensation
Lift Truck Damage
Truck/Trailer Damage
Product Damage
Lost Production
Increased Insurance Premiums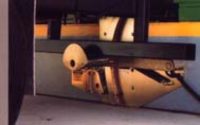 Restraints secure trucks by their ICC bar
Non-Impact activation
Simple design, no scheduled adjustments
Choice of four models
AUTO CHOCK
TRUCK RESTRAINTS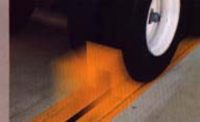 Restraints is not dependent on the truck's ICC bar
Non-Impact activation
Smooth, automatic hydraulic operation
All-weather reliability
Virtually maintenance-free; no lubrication required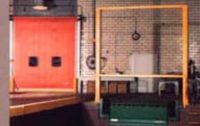 Prevents equipment and personnel from accidentally falling off the loading dock
Prevents damage to doors, overhead tracks, headers
Simple design, easy manual/automatic operation
No scheduled maintenance